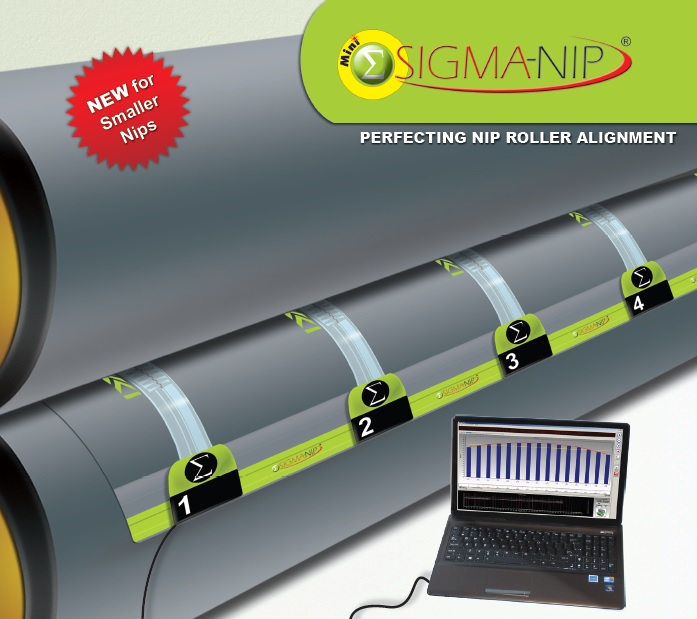 SPI Sigma Nip 滾軸壓力分布
由一系列的感測元件
被放置在兩隻接觸棍之間。
當滾軸施加力時,感測器立馬揭示的精確
感測寬度的跡象- 讓你即時確定滾軸是否對齊正常及是否適度地擠壓在一起?
Mini Sigma Nip 是即時系統,即使Mini S在感測中, 也可以同時調整滾軸相關參數,
如軸隙。增加了的靈活性和操作速度。
Calender rolls/Hard rolls in the center press
Any bone-hard, low durometer polymer or ceramicroll interfaceRolls with circumferences smaller than 20" (51cm)
滾軸壓力分布實際 Demo Link: http://www.sensorprod.com/sigmanip.php
Benefit
1.
Mini Sigma-Nip® comes complete with everything you need
to quickly and accurately take nip impressions.
2.
Mini Sigma Nip's software is so intuitive and user friendly that within
minutes even an inexperienced user will benefit from its powerful reports.
3.
Mini Sigma-Nip® is designed with the intention of beingused during routine maintenance or setup and is unfurled across the roller surface by just one person.
4.
The system is modular, portable and quickly connects to the USB port on
any standard Windows laptop.
Windows® 2000 /XP/Vista / 7