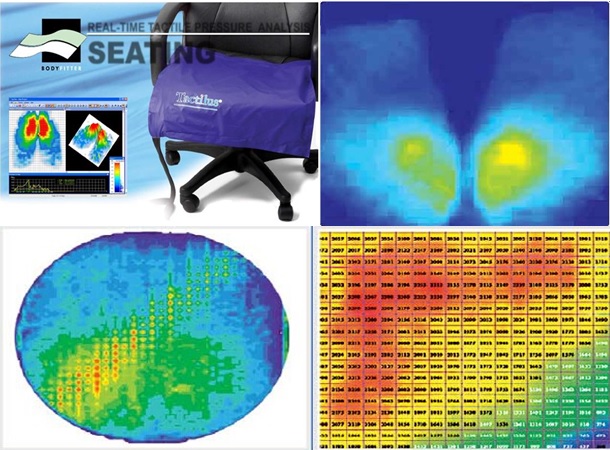 SPI 坐墊彈性壓力分布量測
Body Mapping System
耐高溫 0~93℃
不易磨損,感測器保修一年
1~19 英吋
可設定多種量程,保證精確度
使用方便
感測器出廠前單獨校準,無需自校
120%、158%兩種延展性規格
可隨意彎曲、揉捏
0-93℃
0-30 PSI量程
使用方便
感測器出廠前單獨校準,無需自校
客制化外觀
軟體介面強大功能
即時性顯示2D和3D畫面
256階RGB漸變色顯示圖形
軟體可即時顯示每個壓力感測點的數值
顯示壓力平均值、最大值、最小值
顯示感測器受力中心點,可追蹤軌跡
錄製整個測試過程,載入錄製檔後可還原測試過程
隨時錄製與停止,快進、後退、慢速播放
顯示壓力與時間曲線
Kg/cm2,RAW,PSI,ATM,mmh,Kpa,bar等力學單位輸出
Benefits
•Anthropometric Feature – reads and reports body attributes, and Somatotype
•Chiropractic Diagnostic Package
•Consumer Database - designed to track customers and salesman performance and response-to-sale ratios
•Languages – software in Spanish, Chinese, German and French
•Private Branding - name and indentia on hardware and software
•Retail Environment Version – touchscreen panel and graphical user interfaces
•Scientific Analysis Package
•Wireless Capability

Seating
The NEW Tactilus® Bodyfitter® seat sensor system delivers real-time surface pressure
distribution between a person and their seating surface.
Bringing human factors engineering to a new level, Bodyfitter® is capable of characterizing pressure magnitude of the seat surface,
back rest and head rest simultaneously.
Bodyfitter® then assimiliates the data collected into our powerful Windows® based software
providing you with everything from pressure maps to detailed statistical analysis.
In the design of seating surfaces, position, density and conformity of materials is critical.
Bodyfitter® not only significantly reduces the number of test iterations required
but is a evolutionary design aid towards the quest for ergonomic fit.
Tactilus® Bodyfitter® is the most economical, scientific and user-friendly system
for surface pressure mapping available today, both in the lab as well as in-store.
Tactilus® is matrix based tactile surface sensor that works by the principle of piezoresistance.
Tiny sensing cells cover the entire surface area of our sensor "skin" allowing for
discrete spot pressure analysis at any point in the contact region.
Sensor Products primary proposition is to offer our clients precisely what they require or need.
To that end, every thing we design can be completely tailored to your unique situation.
Sensor Specifications
Pressure Range
0 - 4 PSI (0 - 0.28 kg/cm²)
Grid Size
32 x 32
Max Sensing Area
17 x 17 in (43 x 43 cm)
Sensor Points
1024
Spatial Resolution
Custom from .39 in. (10 mm)
Thickness
30 mils (0.76 mm)
Accuracy
± 10%
Technology
Piezoresistive